Deer Hunting Areas
The charts below indicate which areas are included in the programs described below. Please note: Site maps for each hunting area are provided on the reservation pages for each specific site.
Ithaca Deer Management Focus Area (DMFA)
Hunters that wish to participate in the Deer Management Focus Area Program (DMFA) on Cornell Deer Management Program properties within the DMFA zone must also possess a Cornell Deer Management Program Permit.  Note that a DEC issued DMFA Permit is NOT a Cornell issued Permit. Hunters attempting to hunt Cornell properties during the DMFA January season without a Cornell issued permit will be prosecuted. For more information on the DMFA program visit the DEC webpage, including dates, rules of the program and how to apply, visit https://www.dec.ny.gov/outdoor/82382.html.
Archery and Crossbow Only
These sites are restricted to archery and crossbow only hunting. Unless otherwise noted, all listed sites are open to archery, crossbow, and firearm hunting opportunities.
Deer Management Assistance Program (DMAP)
These sites normally have free DEC Deer Management Assistance Program (DMAP) tags for eligible hunters. DMAP tags will not be offered for the 2022 hunting seasons.
These tags are intended to help us meet our deer management program goals of reducing the doe population. Hunters are expected to use purchased tags taking deer in our program areas before requesting a DMAP tag. Priority will be given to hunters who have harvested deer in preceding years. DMAP tag recipients must now report harvest data directly to Cornell Botanic Gardens. This information includes site name, sex, age, date taken, tag number, hunter name, and back tag number through the program's on-line hunter reservation and harvest reporting system.  DMAP tags are to be used only at the assigned site, valid for antlerless deer only, limited to two tags per hunter per year, and must not be sold or transferred. To request a DMAP tag, contact cudeerhunting@cornell.edu.
Sites Recommended for non-ambulatory hunters
Additional details are provided on the respective reservation site webpage.
Locator Maps
Click the links below for  hunting program locator maps:
Restricted Sites
Prospective hunters with questions about hunting at "restricted sites" or "restricted parking areas" such as Eames Bog Lot #1, Conwell Tract and Coy Glen Lot #4 should contact cudeerhunting@cornell.edu. Note that for this year McLean Bogs, Bandler Family Forest, and Edwards Restricted Sites are already full and are closed to additional enrollment.
Natural Areas
For more information on Cornell Botanic Gardens' preserves, visit our on-campus and off-campus natural areas pages.
Additional Hunter Resources
Note: Cornell Botanic Gardens is providing the following information for the benefit of our hunters, and makes no claim of responsibility for the quality or reliability of services by third parties.
Venison Donation
If you are interested in donating venison to those in need, local Venison Donation Coalition Butchers are:
Mountainside Outdoor Supply  Homer, NY (607-749-5714)
Jon's Custom Meats  Moravia, NY (315-497-0849)
Ty's Deer & Custom Meat Processing  Scipio Center, NY (315-364-8266)
Other nearby non-VDC Butchers are:
Tim & Beth Ceurter Richford, NY (607-657-8007)
Local DEC Environmental Conservation Officers
Osman Eisenberg (607) 564-9458
Jeff Krueger (607) 227-9584
ECO Emergency Dispatch Number (844) DEC-ECOS or (844) 332-3287
DEC Land adjacent to Botanic Gardens Natural Areas
Hammond Hill State Forest (Slaterville 600)
Connecticut Hill Wildlife Management Area (Carter Creek)
Shindagin Hollow State Forest (Bald Hill)
Support for Educational Partners
Primitive Pursuits, a local non-profit, is looking for donations of raw deerskins to support adult and youth hide tanning classes. If you are interested in supporting this effort, you can donate your hide to Primitive Pursuits by emailing their staff  for more information.
Program Contact Information
(607) 255-0692; cudeerhunting@cornell.edu
Note this number is not a staffed line, but messages will be checked regularly.
Harvest and Activity for each hunting site recorded each year beginning in 2014.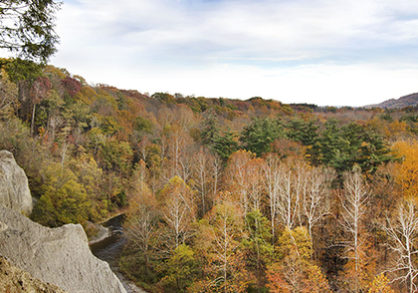 We manage nearly 3,600 acres of natural areas across 44 sites, which represent the full range of ecological habitats in the Finger Lakes Region.