FEATURED PLANTS
Here's just a few plants we don't want you to miss. Click to learn where to find them and more!
Take a deep dive into our plant records
Use the Garden Explorer tool to search current information directly from our plant database including each plants' location.
About Garden Explorer
FEATURED GARDENS
Our diverse cultivated collection of plants are located within specialty gardens surrounding the Nevin Welcome Center and within the nearby 150-acre F. R. Newman Arboretum.
This area's "garden rooms" show perennials, shrubs, and ornamental grasses can be used in inspiring ways.
One of the highest points at Cornell Botanic Gardens and on campus, Newman Overlook provides a wondrous view of both the arboretum.
Houston and Grossman ponds, located in the heart of the arboretum, were created in the early 1980's to add an aquatic ecosystem to our collections.
FEATURED NATURAL AREAS
We steward over 3,600 acres of biologically diverse landscapes that represent the full range of ecological communities found in the Finger Lakes region.
Natural Area
Designed to replace conventional lawn with native low-growing grasses, which only require mowing once or twice per year.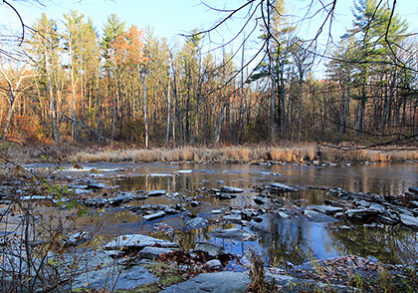 This natural area consists of young and old forests on the north and south sides of Fall Creek.