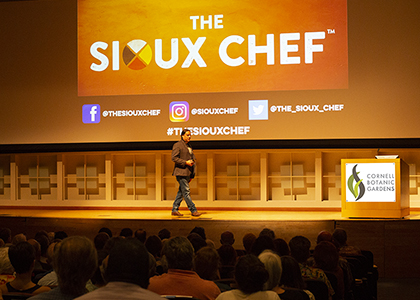 Sean Sherman, James Beard Award-winning chef and founder and CEO of The Sioux Chef, shared his research and insights on indigenous food cultures at Cornell Botanic Gardens' Audrey O'Connor Lecture Sept. 5. An Oglala Lakota born in Pine Ridge, South Dakota, Sherman co-wrote the acclaimed cookbook, "The Sioux Chef's Indigenous Kitchen."
In his lecture, "The Evolution of the Indigenous Food Systems in North America," Sherman explored the regional differences among various indigenous cultures from around the continent, noting that each area's geography – coastal, swamp, desert, forest – led to distinctive approaches to food.
"To understand indigenous food systems, you have to think about the diversity that's out there," he said. "You can't lump all Native American people into one group. North America is huge."
Sherman began cooking professionally when he was 13, but it wasn't until a few years later that he had a life-changing moment.
"I realized I didn't know anything about my own foods – like where are all of the Native American restaurants out there? Why don't they exist?" he said. "In Minneapolis, you can see restaurants from all over the world, but nothing from the land on which we're standing."
That led him to conduct years of research into indigenous food cultures, and discovering that the best way to reconnect with those traditions is through learning more about plants.
"Plant knowledge is something that we share with our ancestors in real time," he said. "Thousands of generations passed down knowledge of how to use these plants."
Said Christopher Dunn, the Elizabeth Wilds Director of Cornell Botanic Gardens: "Indigenous foods play a central role in protecting biodiversity, by raising awareness of native plants and their value as foods and to the ecosystems they support. And by protecting and using these vital plants for nutrition, we also conserve the cultures that traditionally have relied upon them."
Prior to the lecture, Sherman engaged with students and faculty from the American Indian and Indigenous Studies Program for discussion around indigenous food sovereignty as a central component in indigenous nation-building and wellness. Students asked how Sherman develops recipes from indigenous ingredients.
"If you could make your food taste exactly like the place where you are physically standing, then you can really evoke that flavor profile that resonates through history," he said. "This way of thinking about food provides a direct connection that we have as indigenous people to our ancestors and to the flavors of their foods, because those flavors haven't changed."
At the lecture, Sherman also spoke about NATIFS (North American Traditional Indigenous Food Systems), a 501c3 nonprofit organization he recently co-founded to promote indigenous food ways education and access to indigenous food.
"Food is the one thing that centers all of us. It's the one thing that we all have in common, no matter who we are," he said. "It's a great way to understand somebody else's culture. For natives to have that stripped away was so damaging."
Sherman described the effects of U.S. government policies in the 1800s on indigenous food traditions.
"The most effective way to conquer people is to attack their food systems – burning crops, destroying food-storage systems, destroying bison, letting cattle graze on ancient fields," he said. "If you can control the food, you can control the people. It's a war tactic."
One of NATIFS' outreach efforts aimed at helping restore those lost food systems is the Indigenous Food Lab – a restaurant, education and training center in Minneapolis, set to open in the coming months.
"The center will reach out to the tribes around us to help develop business within their own communities to increase food access, and provide them with choices," Sherman said. The lab would then be franchised around the country to spread that knowledge and strengthen communities, while promoting the salubrious benefits of indigenous foods.
"The best part of these indigenous diets is their health benefit, because you get an immense amount of plant diversity," he said. "It's a super-low glycemic diet," which can help to address some of the health issues – diabetes, obesity, heart disease – that plague Native Americans.
Sherman's visit to Cornell was co-sponsored by the American Indian and Indigenous Studies Program and the Atkinson Center for a Sustainable Future. Along with Cornell Botanic Gardens, these organizations share an understanding of the importance of indigenous food systems to the health of people and the planet.
Jim Catalano is a freelance writer in Ithaca, New York.
Published by the Cornell Chronicle, October 2, 2018