"Christa Núñez is an African American entrepreneur, researcher, agriculture educator, social justice practitioner and storyteller. As founder and co-owner of the Learning Farm, Christa is dedicated to providing opportunity and support to families to celebrate joyous experiences in nature and preserving agricultural knowledge."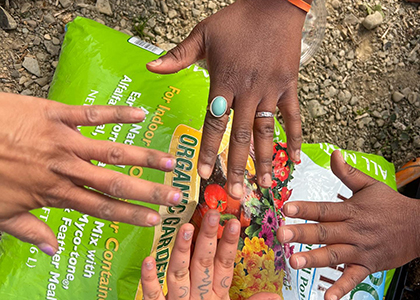 Christa Núñez, an extraordinary educator, instills a deep appreciation for environmental stewardship and sustainable farming in the next generation. Through her work with community organizations such as her church and Black Farmers United, Christa works to diversify farming and scholarly landscapes and prioritizes the increase of equity in landholdings. In order to create sustainable food, land, and nature systems for systemically urbanized and displaced youth and families, this work includes the uplifting of stories that center people of color in dignity-affirming ways.
Visit The Learning Farm website or follow @learningfarm on Instagram.
An Afro-Indigenous centered community farm committed to uprooting racism and seeding sovereignty in the food system
Karen supports past, present, and future Black farmers and communities in their pursuit of food justice.
An invaluable guide for communities seeking to reclaim food sovereignty, transcend structural barriers and be resilient and resourceful.